I decided to partake in the random fun that is 10 on Tuesday hosted by
Lin
&
Amber
! Let's get started shall we? ;)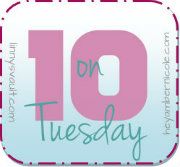 O1.
I think I'm totally burnt out at work after working six days each week for the past two weeks! Workaholic much? I think so!
O2.
I was overly excited for the official video for "We Both Know" by Gavin DeGraw & Colbie Caillat today!
O3.
I love that I got into the Yelp Elite Squad this year! It's neat to be elite, hehe. I can't wait for my first elite event.
O4.
I really need to start shopping for my swaps this weekend. I'm sucha procrastinator, bahahahaa :P
O5.
I am in love with this cover of "I Knew You Were Trouble" by Alex Goot, take a listen!
O6.
The hubs & I are looking to be first time homeowners, but finding the perfect home is a pain in the butt! Plus, our first home choice got bought, boo =/
O7.
I can't wait to take little mini vacations this year! First will be in April for my first national occupational therapy conference in San Diego. The keynote speaker is Aron Ralston
(
yes, too bad James Franco can't be there either, haha
)
;)
O8.
I am a sucker for wedding photos. One of my coworkers in the facility just came back from her wedding in Burma & I loved looking through her photos. Gorgeous!
O9.
I still have no idea how I survived without a smartphone for so long. I am still amazed how much I can rely on my iPhone nowadays :P
1O.
I shall now go crash & snooze away to dreamland *sigh of relief*