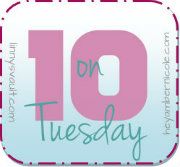 O1.
Why do I have all them crazy evaluations at work? I swear I get the patients that the other therapists don't wanna deal with. Oh well, guess I'm the cool therapist then ;)
O2.
I ate two mini bags of hot cheetos today. I'm a dietician's wife alright, lol!
O3.
What is with me & Hello Kitty/Sanrio clothing? I really really want this
My Melody top
from Uniqlo!
O4.
I have sent out my 2 packages for my bauble swap partners as well as my package for the #vdaymugswap! Done with swaps for a while *giggle*
O5.
Nick Carter of the Backstreet Boys turned 33 yesterday!
O6.
I cannot wait for the Maroon 5 concert in March! Can we fast forward pretty please?! I wanna see sexy Adam Levine live already :P
O7.
I think I've become such a klutz right now. I swear I've dropped my smartphone more times than I've dropped my ancient flip phone, lol! Thank goodness for my awesome case from Wedding Paper Divas ;)
O8.
Is it springtime yet? I want to shed all these stupid layers of clothes & get out all my spring/summer wear!
O9.
Did I mention I really like this Maroon 5 song as well? ;)
1O.
I shall now have a nice hot shower followed by making lunch for work tomorrow while enjoying a nice glass of moscato :P