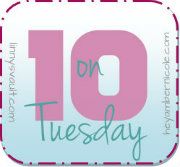 O1.
Have you heard? I chopped off 10+ inches of hair to donate to Locks of Love this past weekend! Check out my post
here
;)
Before & after
O2.
I actually yelled at the TV...multiple times...yesterday during the Super Bowl. I haven't watched the Super Bowl since elementary school. Those darn 49ers just get me all riled up! Gotta rep the Bay Area!
O3.
I still cannot believe we're already a few days into February! Where did the time go?!
O4.
I am
im
patiently waiting for my swap packages to arrive *giggle* I love getting surprises in the mail!
O5.
Only 15 more days 'til my 6-month wedding anniversary ♥
O6.
I found out that Alex Goot will have two tour dates in California & they are too friggin' far away for me to attend! Stop breaking my heart Alex Goot :'(
O7.
My boss said that I'm becoming more experienced now that I'm not such a pushover at work, lol. I've actually been called mean a few times *gasp* Annie mean?! Crazy world nowadays!
O8.
I really need to keep up this running thing. I have a new dri-fit sports bra & fitted running capris that make me look smexy...
O9.
I am really excited to participate in my second
Color Run
next month! Team Rainbow Hospice
(
inside joke at work
)
:P
1O.
I really hope this work week will fly by so that Chinese New Years will begin! I'm also attending
Yelp's Good Karma Ball
on Chinese New Years as well, excited :D