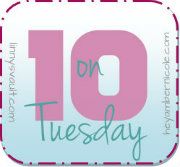 O1.
I had a great Valentine's Day, did everyone else? I mean, I friggin' had a red hot outfit for work ;)
Red red red!
O2.
I miss the nice weather we've been having! Where did it run off to? *pouts*
O3.
Over the last 3 days, we've had 7 residents at our facility pass away with me personally have worked with 2 of them. It kind of broke my heart to hear the news of their passing, but at least they're not suffering anymore...
O4.
I love this recent cover by Alex Goot, have a listen ;)
O5.
Only 1 more day 'til my 6-month wedding anniversary ♥
O6.
I am lovin' reading what all the Bauble Swap participants got! If you haven't checked it out, it's located
here
:)
O7.
I really need to mail out my Cara box swap goodies to my gal! Deadline is Wednesday, yikes! =/
O8.
I went to another event courtesy of Yelp this past Saturday called
Meet the Brewers
. I have learned I like raspberry cider ;)
Meet the Brewers 2013
O9.
One more day of work tomorrow before my day off *sigh* I can make it!
1O.
I can't wait for my half year anniversary! Couples massage & spa day! I've never gotten a massage or been to a spa before *geeks out*