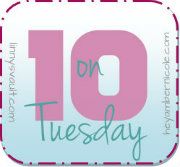 O1.
I attended my very first Yelp elite event last Wednesday & it was a lot of fun! Plus, I got to experience a new film that I would have never picked to watch for myself :D
Yelp elite event!
O2.
Why the heck is it so windy outside right now?! We were having such nice weather earlier *pouts*
O3.
I discharged our best patient today & it was slightly bittersweet. No one believed he could do anything, but I got him to be the best patient we had. He gave me the credit for making him so independent so I'm one proud OT, baby! ;)
O4.
The Color Run this past weekend was friggin' awesome! We got tons of color fun & I can't wait to do it again in San Jose on May 18!
With my lovely ladies!
O5.
I am impatiently waiting for Gavin DeGraw & Train tickets to go on sale on March 14! I need my Gavin fix already *giggle*
O6.
Planning for my classes/sessions for national conference is a bitch! Too many sessions & too little time *sigh* So many good sessions during the same time frame, gahhh :(
O7.
Speaking of national conference, I cannot wait for it since it'll be my first time visiting San Diego! It'll be a mini vacay for the both of us. Gotta hit the beach a few times *giggle*
O8.
Check out the acoustic version of "Lightning" by Alex Goot! Me gusta :P
O9.
Maroon 5 concert next Wednesday, eek! Adam Levine in the same building *sigh* XD
1O.
Buying a house is a bitch! However, I think we have found the perfect one that is below market value & in my childhood neighborhood! Keep your fingers crossed for us ;)