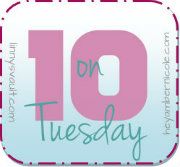 O1.
"Every day she's my living addiction!" *dances*
O2.
Hot damn was the
Maroon 5 concert
awesome! Check out the post
here
with photos & videos for your viewing pleasure ;)
Look at sexy Adam on that screen *drool*
O3.
I am sooooo bummed that the Train, Gavin DeGraw & The Script concert in SF is sold out! I wanted to go see Gavin again *pouts*
O4.
I had the pleasure to take
Elaine's maternity photos
yesterday in lieu of celebrating St. Patty's Day! I tried to use what my wedding photographer taught us, but I ain't now professional. However, I am damn proud of some of the cute shots I got! I shall post once I edit them up a bit :D
O5.
I had a Coach bag craving this past weekend & so I had the hubs take me to the Coach outlet
(
such a good hubby
)
& I basically got a new bag for $97
(
original $298
)
, woot!
O6.
Work place politics is like high school drama. Can't we all just get along? *eye roll*
O7.
Speaking of work, I am flexed off today since we have low census again *sigh* Well, gotta take them days off while I still can ;)
O8.
I'm still waiting for my company to change my last name so I can go change my name at the bank & credit cards... Oh the problems of a married woman who changed her last name. Yes, I realize it's been over 6 months since I got married, hush it! :P
O9.
Add me on Bloglovin' since Google Reader is going bye bye on July 1st!

1O.
Cya next Tuesday! :P