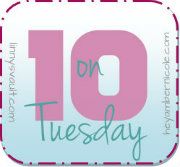 O1.
It's been so slow at work with a low census that I've been getting off work before my 8 hours are up! Not that I'm complaining too much with less work, but that also means less moola =/
O2.
The
Summer Fun Swap
partners have been sent out! I hope all the participants are happily shopping for one another cuz I can't wait to see what everyone got!
O3.
The weather has been completely whacky lately, hot for a few days, cold the next... Can you stay consistently warm so that I can enjoy my summer wear por favor?!
O4.
Did I mention I met Aron Ralston
(
subject of 127 Hours
)
a little over two weeks ago at conference? Highlight of my whole conference weekend!
The Aron Ralston!
O5.
Seeing as how I didn't get to party with BSB on their 20-year anniversary, I decided that I just had to go find their star on the walk of fame when returning home from conference. Mission completed!
I'm such a fangirl ;)
O6.
Not going to say now, but I hope everything goes smoothly tomorrow afternoon. To be announced ;)
O7.
I am totally rooting for Team Adam on The Voice right now!
O8.
Did you see the awesome goodies I got in my "go green" Cara box? Check it out
here
:)
O9.
I cannot wait for this month's ipsy glambag! There's a sneak peek of a Zoya nail polish, eek :D
1O.
I've ran out of things to say, lol!