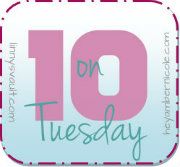 O1.
Holy moly! I cannot believe I haven't done a 10 on Tuesday since early May! This year has just flown by :O
O2.
I am excited to the biggest Yelp bash of the year tomorrow night:
Midsummer Night's Yelp
! It'll surely be a good time with the hubs & 3 of my friends :D
O3.
I cannot wait to do the Color Run in SF again in October! More of my coworkers are joining in this time around. Our business lady is even making tutus for all the gals on the team!
Shwe, me, Vinh & Debby at the SJ Color Run
O4.
I am currently addicted to Maroon 5's "Love Somebody" including their video. Oh to be that girl in the video :P
O5.
I think I like getting mani/pedis now, lol. A little pampering doesn't hurt, right?
Pretty ocean-inspired nails
O6.
Did I mention that I bought tickets to the BSB concert in September?! I am actually liking their new song *dancey* Hurry up September!
O7.
Only a few more days until July 1st & I'll have healthcare again. Sucks turning 26 & losing good insurance via the parentals, boo! Don't grow up kids, it's overrated :P
O8.
We are so friggin' slow at work right now. I barely have any patients because they have either: 1.) run out of Medicare money, 2.) been discharged home, or 3.) repeatedly refused therapy.
O9.
I have commissioned a custom drawing from
Sheena
for my wedding anniversary in August! All I can say is I love it & I hope Vinh likes it, too :D
1O.
Google reader goes bye bye by July so be sure to follow me on Bloglovin' if you haven't yet!